Thanks for reaching out about your SWISSGEAR product. Resetting the combination lock on your luggage can be completed in just a few steps. Please find information about TSA locks and how to adjust combinations below.
SWISSGEAR luggage combination locks are Travel Sentry Certified and are both recognized and accepted by the Transportation Security Administration (TSA). These locks allows for a fully customizable combination yet still allows TSA airport security agents to open the lock without destroying it in the event that a baggage search is required.
To set, change, or re-set your combination, please refer to the below instructions: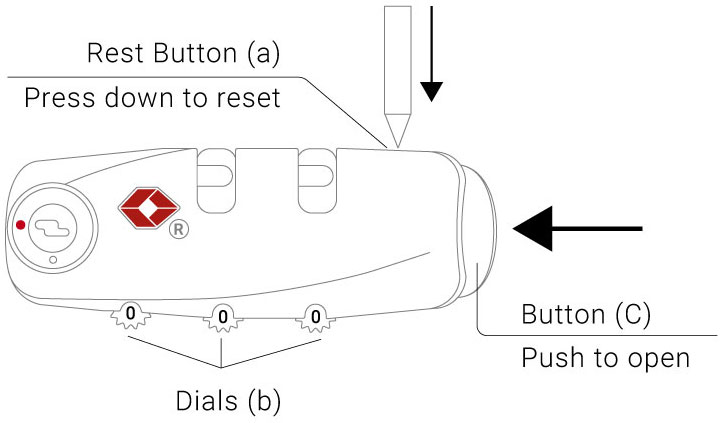 Locks may differ slightly from the diagram above however components and instructions remain the same.
The original combination number is 0-0-0.
To set your personal combination, follow these steps:
Put the dials (b) at its original numbers of 0-0-0;
Press down the reset button (a) with a tool until you hear a "click" sound;
Set your combination by turning the dials (b), for example 3-2-1;
Push the button (c) on the side of the device inwards. You will hear a "click" when the reset is complete.
In the event that you forget your custom combination, please follow the above steps to set a new combination.
| | |
| --- | --- |
| NOTE: If TSA authorities open your luggage at any point during transport, the cylinder on the top of the device might be in the open position. To re-engage the lock, insert a tool into the cylinder and rotate it 90 degree counter-clockwise. | |